Javelins included in Southeastern punctuality figures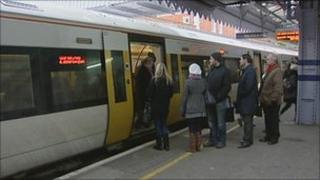 BBC South East Today has learned that Southeastern trains would have failed to meet its punctuality targets last year if it had not included figures from the new high-speed Javelin trains.
The trains run on sections of High Speed one (HS1) - the London to Folkestone Channel Tunnel rail link.
The company has come under increasing pressure after passing its target of 82% by 0.04%.
BBC South East Today has obtained figures for the last 10 (four weekly) periods for the Javelin trains.
They show the high-speed trains regularly hit punctuality targets of 90% or more and without them included in the figures Southeastern would now be facing huge compensation payouts to passengers.
There has been growing concern among MPs and passengers at the punctuality figures.
Roger Gale, Conservative MP for North Thanet, has described them as "massaged" and has called for the high-speed punctuality numbers to be taken out of the overall percentage.
Kent and Sussex MPs met the Minister of State for Transport, Theresa Villiers, on Tuesday to press their case to have the high-speed figures removed by Southeastern.
The Department for Transport is currently considering a possible extension to the Southeastern franchise to take it through to 2014. A decision is expected shortly.
For its part, Southeastern told BBC South East: "High-speed services run on both High Speed 1 and on the mainline network meaning any problems on either network will impact on both services.
"Therefore, mainline and high-speed are integrated services so the punctuality figures are reported as one."
Passengers have to pay higher fares to use the faster Javelin trains.