Fifty firefighters tackle Suffolk thatch blaze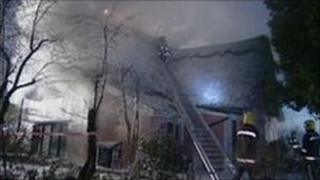 Fifty firefighters from across Suffolk and Norfolk were called to deal with a fire in the roof of a two-storey thatched house in a village.
Ten fire crews were called to Worlingworth in Suffolk when the fire broke out on Monday afternoon.
Station manager Steve Mableson said a foam system used by Norfolk fire service was being used.
"Fires in thatch are notoriously difficult to deal with because it is designed to repel water," he said.
"We have to break into the thatch to direct water on to the flames.
"Firefighters are also inside the building tackling the flames from underneath but we have had to create a safe environment for them.
"Breaks were made in the thatch to stop the flames spreading."
An investigation is being carried out with the owner to discover how the fire started.