No plans for Auckland Castle sale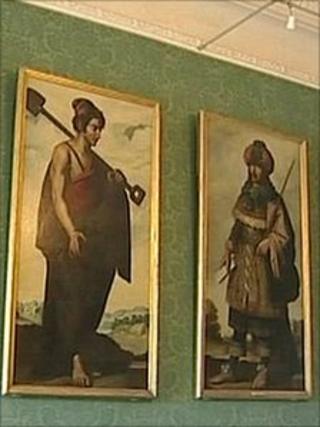 Fears that Auckland Castle could be sold have been allayed but controversial plans to sell historic paintings are still being considered.
Church Commissioners are thinking about selling the paintings to raise £15m for the Church's work in poorer areas.
Opponents fear an important part of the heritage of the north-east of England could be lost.
Commissioners will decide if the castle will still be the Bishop of Durham's home but said it will not be sold.
The paintings by Spanish Baroque artist Francisco de Zurbaran have hung in Auckland Castle, in a room specifically designed and built for them, for 250 years.
'Selling family silver'
Secretary to the Church Commissioners Andrew Brown said the paintings were assets and the money from selling them, along with the savings from no longer having to insure them, would mean the Church could support 10 more priests in poorer areas of England.
He said: "Our responsibility is to support the work of the church of England and that is priests on the ground."
But campaigners said the paintings are an important part of the North East's heritage and should stay in the region.
Durham University vice-chancellor Professor Chris Higgins said: "It's like selling the family silver. If they sell these paintings, once they have been sold and that money has been used it's gone."
Mr Brown said the suitability of Auckland Castle as the Bishop of Durham's home was being reviewed but that it would not be sold.
He said: "How it's going to be used I don't know yet but what I do know is that it is not about to be sold. We have no plans to sell it whatsoever."