CS spray used on UK Uncut protest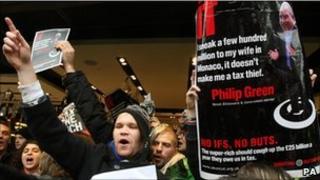 CS spray was used during an arrest of a female protester outside Boots in central London, police have confirmed.
The woman had been taking part in a protest organised by the group UK Uncut against stores and brands who they claim avoid tax by registering abroad.
The woman was arrested on suspicion of criminal damage. Scotland Yard said CS spray could not cause lasting damage.
A Boots spokeswoman said its Swiss registration reflected the "international nature" of the company.
The arrest followed a sit-in by about 20 protesters at the Boots store in Oxford Street that started at lunchtime.
A number of people were affected by the spray and activists later claimed some of the store's staff had helped treat those involved.
Later a tweet criticising the police action appeared on twitter from an account entitled "@bootsmealdeal" which had previously been used to promote the store's sandwich offers.
The account and the tweet were later deleted and a spokeswoman for the company said it had launched an investigation into the comments.
The spokeswoman later said the Boots Meal Deal account was not one owned or run by Boots UK.
Around 30 such UK Uncut protests had been planned across the UK.
In Lewes, East Sussex, five people were arrested under Section 14 of the Public Order Act, as protesters blocked the entrance to the town's branch of Boots. One was later released without charge.
The remaining four were taken into custody in Worthing, including a 60-year-old man and three women aged 70, 47 and 43.
In Brighton, around 20 people targeted the North Street branch of Boots. They were removed from the store by security staff but no arrests were made.
Uncut claims retailers such as Boots deprive the UK taxpayer out of huge sums of money by being registered in Switzerland, where taxes are far lower.
Responding to these criticisms the Boots spokeswoman said: "If we had registered in Switzerland purely for tax reasons there are many other countries that we could have considered."
She added that they had contributed to the UK's finances through increased business rates and National Insurance contributions resulting from the expansion of the brand.