Parents' hopes still alive for missing Piers Hopson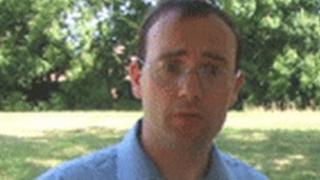 The parents of a man with Asperger syndrome who went missing in East Sussex a year ago say they have never given up hope he will be found alive.
Piers Hopson was last seen leaving his care home in St Leonards on 25 January 2010. He was aged 35 when he vanished.
The last sighting was in Rock-a-Nore Road, on Hastings seafront.
"I do think he is alive," said his mother, Dawn Hopson, from Crowborough. "We hope someone is looking after him."
Mrs Hopson and her husband, Roger, made a TV appeal to try to find their son.
They visited Tunbridge Wells railway station in Kent every day for two weeks afterwards in the hope that he would arrive there by train.
"Whenever we met Piers when he used to come home for a few days we would meet him at Tunbridge Wells station," said Mr Hopson.
"He would catch the train at Hastings."
Mrs Hopson said they had to stop their visits to the station because they were too upsetting.
"I can't tell you how emotional it was," she said.
"We were psyching ourselves up every afternoon to come here and being disappointed."
Comfort zone
The couple said Piers was constantly on their minds.
"He must be somewhere in the South East, we think, because that would be his comfort zone," said Mr Hopson.
"He is unlikely to go to London or beyond because he doesn't know those areas."
Numerous reports have been received in the last year from people who believed they spotted Mr Hopson but none of the sightings was verified.
Sussex Police examined CCTV footage following some of the sightings, including one in a supermarket at Southborough near Tunbridge Wells and another at Tesco's in Eastbourne.
Each time the man spotted turned out not to be Piers Hopson.
Mrs Hopson has her own theories about what happened to her son.
"All we can think is that on that cold January day he was walking in Hastings and he had some sort of trauma," she said.
"I don't know whether he was mugged or he fell over or something and someone came to his rescue and he went with them.
"That is the best scenario. We hope someone is looking after him."
But Mr Hopson admits Piers may no longer be alive.
"He could well be dead - I think there is a strong possibility that he is.
"The police think he carried on walking along the beach at Hastings and he wouldn't have escaped the tide.
"There was high tide that night and it was dark as well, but it wasn't stormy weather.
"It was bitterly cold, but it wasn't stormy.
"But why wasn't he washed up if that is what happened to him?
"It is based on that doubt, really, that we hope he is still alive."