Teesdale and Weardale rescue team call for new members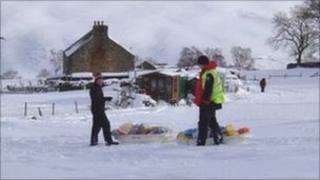 The call has gone out for new members for Teesdale and Weardale Search and Mountain Rescue Team.
Made up of volunteers, the team averages about 50 call-outs a year, from its base in Barnard Castle.
Prospective members should be reasonably fit and have basic hill skills such as being able to read a map and take bearings.
Anyone interested is asked to get in touch, and must be available for an open evening on Wednesday.
New volunteers would undergo a probationary year when they would be taught mountain rescue skills including searching, casualty care and working safely near water.
Deputy team leader, Steve Owers, said: "As we are a charity and need to raise all the funds required to run the team we would also expect new members to take part in fund raising events such as street collections or sponsored events."