Pathologist's concern over girl murder evidence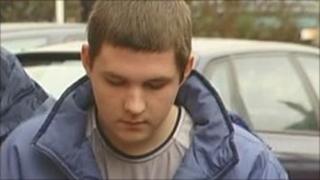 One of Britain's most eminent pathologists has cast doubt on evidence used to convict a Lincolnshire man of the murder of a 10-year-old girl.
Dr Nat Cary told the BBC's Inside Out team that Rosie May Storrie's death at a Christmas party in Leicestershire in 2003 could have been accidental.
Paul Smith, who has Asperger's Syndrome, was 17 when he was found guilty of suffocating her.
Dr Cary said he believed the youngster may have died when a "game went wrong".
Rosie was found face down on a bed at the house party in Normanton, near Grantham, hosted by Smith's aunt and uncle.
Despite attempts to resuscitate her, she died 36 hours later.
During Smith's trial at Nottingham Crown Court, the jury was told Rosie suffocated after being forced down into the bedding.
'Continuing danger'
Smith denied attacking the girl or being in the room at the time, though some witnesses said they had seen him upstairs at around the time she was discovered.
Imposing a life sentence, Mr Justice Astill said he had no doubt Rosie's murder was sexually motivated, and that the teenager was a continuing danger to young girls.
But pathologist Dr Cary, who carried out a post-mortem examination on Rosie, disagrees with some of the evidence presented to the court.
"If the scenario was supposed to be one of deliberate smothering, I don't think the evidence is there to support it," he said.
He added: "Particularly when you see this occurring in children, it raises the possibility of some sort of semi accident or experimentation with pulling of clothing, or it raises the possibility of control without any specific intention to cause harm."
Dr Cary said he felt it was "important that the correct scenario should be voiced, or at least the possibility of that alternative scenario".
The pathologist's report was not used by the defence because they concentrated on Smith's denial of involvement, offering no alternative scenarios for how Rosie died.
After Smith's trial, it emerged he had been involved in three previous incidents involving girls.
Two were not reported, and charges were dropped in a third case relating to the alleged kidnap of a 16-year-old girl.
Smith, who is not expected to be released from prison for at least another seven years, has continued to deny any involvement in Rosie's death, and his parents have campaigned to clear his name.
'Fully investigated'
On the basis of Dr Cary's views, Smith's legal team will attempt to launch an appeal, having previously been refused leave to challenge the conviction.
A spokesman for Leicestershire Police said: "All lines of enquiry were investigated and evidence presented to the court resulting in the conviction of Paul Smith.
"During the trial Dr Cary was present in court and advised the defence team."
In the past 10 years, Dr Nat Cary has become one of Britain's most prominent pathologists, having worked on a number of high-profile cases including the death of Ian Tomlinson who was confronted by police during the G20 protests in London.
The full story features on Inside Out in Yorkshire and Lincolnshire, and in the East Midlands, on BBC One at 1930 GMT on Monday.