Great Yarmouth and Lowestoft regeneration firm 1st East shuts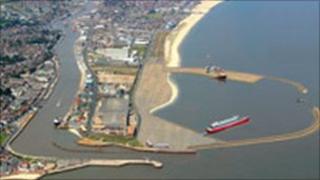 A regeneration firm aiming to boost business at Great Yarmouth in Norfolk and Lowestoft in Suffolk is closing.
1st East has run out of funds and blames the recession, the scrapping of the East of England Development Agency and cuts to council budgets.
Great Yarmouth Borough Council, one of its backers, said projects had not been a waste of public money.
"I think we can get value for money from what has been invested," borough chief executive Barry Coleman said.
1st East was set up and funded by the East of England Development Agency, the Homes & Communities Agency and four local authorities - Norfolk, Suffolk, Great Yarmouth and Waveney. It was run by a private-sector led board.
1st East will cease trading from 31 March 2011 and chief executive Philip Watkins said: "Our main legacy is a firm plan on how the two towns can develop their port and land assets over the next 15 years.
"This is very important because it sends a clear message to investors about what the towns want.
"We've overcome barriers, laid foundations and been successful in attracting new businesses.
"Although the decision to close the company is regrettable, there are many achievements of which we are proud."
A major investment in the past decade has been Great Yarmouth's outer harbour which continues to attract new business.