Durham Tees Valley Airport passenger numbers drop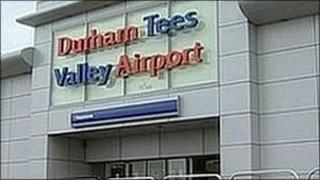 Passenger numbers at Durham Tees Valley Airport have fallen for the fourth year in a row, according to new figures.
The Civil Aviation Authority (CAA) said there were around 63,000 fewer travellers in 2010 compared to 2009.
But Airport Director Mike Morton said a new "cost structure" was in place and that he was confident the business would go "forward" this year.
Passenger numbers peaked at 912,000 in 2006 but have been in decline since then, according to the CAA.
Last year around 224,500 passengers used the airport.
Mr Morton said: "There are very few airports that are seeing a rise in passenger numbers.
"We have massive support from the local community and business leaders and this is giving us the confidence to go forward.
"We have got a new cost structure in place and we are going to take the business forward this year."