Three flood defence schemes put on hold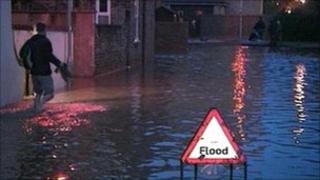 Plans for flood defences in two cities and a town have been put on hold by the Yorkshire Flood Defence Committee.
Schemes to combat flood waters in York, Leeds and Thirsk were deferred by the committee which met on Thursday.
Projects affected include the scheme in York's Leeman Road area, the £180m scheme in Leeds and the Thirsk town centre project.
The Department for Environment, Food and Rural Affairs said any already under construction would go ahead.
York MP Hugh Bayley and City of York Council leader Andrew Waller both said they were angry at the decision.
The scheme to protect the Leeman Road area of York was planned to include raising an earth barrier to hold back flood waters.
In a statement, Defra said all flood defence schemes had been considered by the Environment Agency.
'Economic benefit'
However, a spokesperson said that those "newly-proposed schemes which contribute the most in terms of protection to households and economic benefit per pound spent will be funded ahead of others as has been the case in previous years".
Labour MP for York Central, Hugh Bayley, said he was "extremely angry" about the decision.
He said: "It's extremely worrying for 3,000 people who live in the area that's at risk of flooding."
Liberal Democrat Mr Waller said he was prepared to fight whoever was in government to secure flood defence for the residents of York.
He said: "I was evacuated from Leeman Road in 2000, my house was in there.
"I feel passionately about this and am not going to stop until this [defence] is completed."
Leeds City Council's flood risk manager, Peter Davis said the very nature of flooding made it difficult to plan for.
He said: "A major flood through the city centre could happen at any time.
"One of the things we can't say in flood risk management is when these events are going to occur.
"The only thing I can say is they will occur.
"Climate change could potentially increase those risks and bring on that likelihood even more."
Members of the Yorkshire and North East Regional Flood Committee are now considering a move to secure cash from the European Union to carry out the flood defence work.