Peter Tobin 'rape victims' identified by police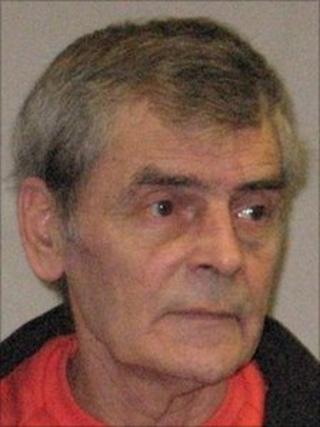 Seven women who were allegedly raped by serial killer Peter Tobin have been identified, the BBC's Crimewatch programme has disclosed.
The women were identified following an appeal for information in July 2010.
Det Supt David Swindle, of Strathclyde Police, said thousands of lines of inquiry had been followed up.
Tobin is serving three life sentences for the murders of schoolgirl Vicky Hamilton, 15, 18-year-old Dinah McNicol and 23-year-old Angelika Kluk.
More than 700 people called in with information on Tobin following the last Crimewatch appeal on the killer's past.
Mr Swindle said he wanted to find three people who had met Tobin in the past, including a married couple who were the only official witnesses to Tobin's first marriage in Brighton in 1969 to Margaret Robertson, who was 18 at the time.
He said he wanted to speak to a Mr and Mrs Hardy, who lived in St Michael's Place in Brighton at the time. Tobin was 22 when he first married.
Mr Swindle said he also wanted to find another man, called Paul, with whom Tobin had worked in the mid-1980s.
Followed trail
He added that a lot of information had been received about the three people and they hoped to identify them but had yet to do so.
Police set up Operation Anagram after the rape and murder of Polish student Ms Kluk at a Glasgow church in 2006.
They followed a trail to the garden of Tobin's former home in Margate, Kent, where they unearthed the bodies of Ms McNicol and Vicky two years later.
Detectives are still piecing together information on his whereabouts over the years to establish whether he can be linked to or ruled out of other crimes.
Last year searches were carried out by police at properties in Brighton, East Sussex, which did not disclose anything suspicious. Officers in Sussex ruled out any crimes linked to the serial killer at a seaside property where he used to live.
In October a garage in Broadmere Avenue, Havant, Hampshire, once rented to Tobin was dug up by police hunting for any further victims. Nothing suspicious was found.