Busiest year for Devon and Cornwall's RNLI teams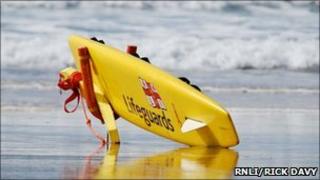 Lifeguards and lifeboat crews in Devon and Cornwall have had their busiest year, according to the RNLI.
In 2010, Plymouth and Torbay were the busiest lifeboat stations in Devon with 107 and 90 launches respectively, while Newquay in Cornwall had 77.
The two busiest beaches were Perranporth in Cornwall with 808 incidents and Woolacombe in north Devon with 544 incidents.
Across the South West region the RNLI helped more than 16,000 people.
There were 1,552 lifeboat launches, resulting in the rescue of 1,559 people, while beach lifeguards dealt with 12,946 incidents, assisting 14,703 people.
Watersport 'boom'
The charity said the figures reflected the "extraordinary commitment" of its local volunteer lifeboat crews and lifeguards.
Patrolling more than 90 beaches across Cornwall, Devon and Dorset, lifeguards dealt with 26% more incidents than in 2009.
Adrian Carey, RNLI Divisional Inspector, said the increase illustrated how essential the lifeguard service was to a region famed for its coastline.
"Alongside bodyboarding and surfing, which have always been popular, other water sports like kayaking and kite surfing, have seen a boom over the last few years," he said.
"Even on the wettest day, it's not unusual to see plenty of people in the water."
Insp Carey highlighted the commitment of lifeboat crews in Cornwall back in October, involved in rescue of the Polish sail training vessel Fryderyk Chopin which had been dismasted at sea during stormy weather.
Safety advice
"Three south west lifeboat volunteer crews responded one after the other to support the stricken vessel, spending more than 60 hours at sea," he said.
"It is this extraordinary devotion to our charity that makes the service provided by the RNLI so unique."
More than half the lifeboat call outs were for pleasure craft.
Insp Carey said although it was not surprising in such a popular area as the South West, many cases of machinery failure in power and sailing boats could be avoided.
He said the RNLI would continue to offer safety advice to both beach and boat users.