Cheshire Police cuts could top 700 posts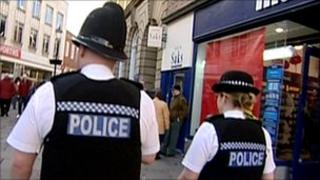 More than 700 police jobs - including 213 officers - could be cut in Cheshire over the next four years because of budget cuts, it has been revealed.
Cheshire Police Authority (CPA) said it was preparing for the "worst case scenario" after being forced to make savings of £36.6m by March 2015.
The force has already placed a partial freeze on recruitment and is unlikely to replace retiring officers.
But it said the intention was to seek to protect neighbourhood policing.
The authority wants to maintain the "positive impact" police community support officers (PCSOs) and maintain 215 posts in 2011-12. It currently has 237.
Details of the authority's draft budget were published on Tuesday ahead of a finance committee meeting on 1 February.
The figures suggest budget cuts of £11m will have to be made in 2011-12, £12.9m in 2012-13 and a further £12.7m in the remaining two financial years.
Members of the authority said the financial strategy was to avoid harming front-line services but conceded that cuts in staff numbers were "unavoidable".
Chair Margaret Ollerenshaw said members had to cut 20% of the police budget in the next four years.
It means police staff numbers - which has already been hit with redundancies - will be cut by 45 by the end of March, and a further 446 by March 2015.
The number of officers across Cheshire will also reduce from 2,060 to 1,847 over the next four years through natural turnover of staff, the authority said.
"The public has told us to protect neighbourhood policing, those roles that tackle criminal activity and roles that protect vulnerable people. This is our intention," said Mrs Ollerenshaw.
"The decisions that we will have to take over the next four years will be tough, but we believe that we can continue to deliver very good services in Cheshire - even with reduced funding - by transforming the way we police."
The authority is also trying to reduce its number of management and supervisor roles, sharing functions and equipment with other forces and reducing back office functions.