Preston Harris Museum awarded £1.1m lottery grant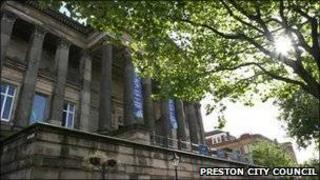 Officials in Preston are celebrating the award of a £1.1m grant for the city's Harris Museum and Art Gallery.
The Heritage Lottery Fund (HLF) cash will pay for a new gallery documenting the history of the city, due to open for the 2012 Preston Guild.
It will also fund repairs to the Grade-I listed building and the remodelling of visitor facilities.
Council leader Ken Hudson said the grant would help give local people the "very best history experience".
The council, which is in no overall control, said the Guild Gallery would be filled with historical objects telling the story of Preston ahead of next year's celebrations.
It said the gallery would cast new light on existing displays - as well as telling new stories and showing off exhibits which have not been seen before.
Alex Walker, Head of Arts and Heritage at Preston City Council, said: "We are looking forward to creating a gallery which will do justice to Preston's rich history and the Harris collections.
"The gallery will cast new light on many favourite exhibits such as the Poulton Elk and the Horrockses mill model, but there will also be new stories and exhibits which have never been seen before."
The council, which runs the museum, said the Poulton Elk was a 10,000-year-old elk skeleton which is hailed as evidence of humans' first presence in the area.
Preston Guild is a festival held in the city every 20 years and 2012 will mark 833 years since King Henry initially granted a Guild Merchant - or market town status - to Preston.
The next festival will be the 23rd Guild held since the decree to hold a celebration every 20 years was made in 1542.