Ex-policeman jailed for string of child sex offences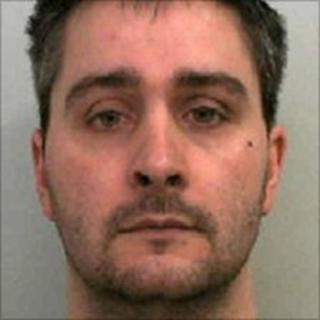 An ex-police officer who committed a string of sex offences against children has been jailed for life and told he will serve at least 11 years.
Daniel Lishman, of Northamptonshire, was convicted earlier of serious child sex offences.
Coventry Crown Court was told the 37-year-old used jobs as a mobile dog-groomer and TV licensing officer to carry out at least eight offences.
He was arrested after attacking a 12-year-old girl in Warwickshire.
Hidden in sock
Lishman, of Thorpe Street, Raunds, also posed as a policeman to indecently assault two young girls, the court was told.
The offences took place between early 2001 and February 2010 and all but one was committed in Northamptonshire.
Judge Peter Carr ordered Lishman, a former special and regular police constable, to serve at least 11 years before he can be considered for parole.
Lishman was convicted at previous hearings of a total of 26 counts and asked for four others to be considered.
The charges, including one of rape and 12 of sexual assault, related to a total of 13 victims, including three with disabilities or learning difficulties, as well as hundreds of indecent images of children.
The serial paedophile was arrested in April last year after attacking a 12-year-old girl while pretending to check on a boiler at an address in Southam, Warwickshire.
'Worst nightmare'
Lishman, who served with Northamptonshire Police between 1995 and 2002, was linked to a string of other offences after detectives who arrested him found a camera memory card hidden in one of his socks.
The card contained images showing Lishman posing indecently near an eight-year-old girl, who had been "blindfolded" using a pair of taped-up goggles in the back of his dog-grooming van.
Passing sentence, Judge Carr told Lishman: "About 10 years or so ago, you began what can only be described as your systematic sexual abuse of your victims, who were in the main very young children."
The judge said it would be not be an exaggeration to describe Lishman as every parent's worst nightmare, telling him: "You are in my view an intelligent, but also cunning, devious and extremely plausible man."
Judge Carr added that Lishman had left many of his victims too frightened to go out and also led parents to wrongly blame themselves for what had happened to their children.
'Required to resign'
Speaking outside the court, Det Insp Steve Woliter, from Northamptonshire Police, said: "Lishman was required to resign from our organisation in 2002.
"He had served some time as a special constable and also as a police constable.
"In May 2001, a female adult made a number of sexual allegations against Lishman. He was disciplined for that and the highest sanction possible was taken.
"From the timescales that we have got from one of his first victims, it would appear that at that time Lishman was also a serving police officer."