South East Coast ambulance staff in pay change row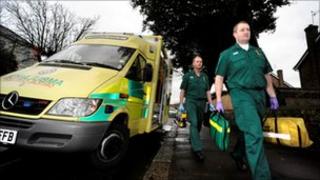 Changes to unsocial hours payments for ambulance staff will have a "devastating effect" on workers and their families, a union has said.
The GMB union is objecting to plans by South East Coast Ambulance Service (Secamb) to change how the payments are calculated.
Secamb said the changes, to be brought in from April this year, followed the introduction of new rota software.
The ambulance trust serves 4.5m people across Kent, Sussex and Surrey.
A statement from the trust said Secamb had been looking for areas where savings could be made, including unsocial hours payments.
'Vital service'
It said staff who worked more than 21 unsocial hours per week were entitled to 25% unsocial hours payment, under terms and conditions introduced in 2004.
But Secamb said in 2004 it was not possible to calculate accurately the number of unsocial hours worked, and calculations were based on the rota pattern a staff member was expected to work rather than the hours they actually worked.
The statement said: "The introduction of new rota software now means that the trust can accurately measure what hours each member of staff has worked, ensuring that all frontline staff are treated equally and a fair payment system can be introduced, one where people are paid for the work they undertake."
The GMB union said frontline ambulance staff could lose up to £5,000 a year under the move.
GMB regional organiser Rob Macy said: "GMB will fight these proposals which will have a devastating effect on employees and their families."
He added: "GMB consider that paramedics, technicians and other ambulance workers provide a vitally important service to the public and they should be paid properly for doing so.
"Morale is now at an all-time low and it is a very real fear that patient safety could be put in jeopardy."
Secamb is aiming to save about £40m over the next five years as part of the NHS's national commitment to find £20bn savings.