University to look at Southeastern punctuality figures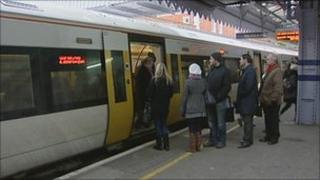 Southeastern's 2010 punctuality figures are to be assessed by the University of Sheffield, an MP said.
The company ran an average of 82.04% of trains on time, beating the 82% target below which it has to pay compensation.
Tunbridge Wells MP Greg Clark said the firm's managing director Charles Horton assured him that statisticians at the university would assess the figures.
But Mr Clark said it was wrong the rules allowed the high speed rail line to be included in the figures.
'Standard industry methods'
He told the BBC Politics Show: "I had a meeting with the managing director of Southeastern recently and he has told me that the statistics department of Sheffield university are independently going to audit these figures.
"I've been in touch with the university and asked them to tell me directly their assurance that these figures haven't been manipulated."
He added: "In any case, it's completely wrong because including High Speed 1 for example in the basket of figures that generate this total means that commuters here in Tunbridge wells are obviously [experiencing service] below that level because the performance of the high speed line is higher and we've missed out on the discount."
Season ticket holders receive a 5% discount if the yearly average for punctuality drops below 82%.
Southeastern said the statistics were calculated using standard industry methods and audited independently.
Travellers, some of whose fares were increased by more than 12% on 2 January, suffered delays, cancellations and amended timetables during two periods of heavy snow in November and December.
Southeastern previously issued a statement about its figures, which said: "Punctuality and performance statistics are calculated using the standard industry methods and the process is audited annually independently.
"Southeastern operates a contingency timetable only when instructed to by Network Rail - the railway infrastructure provider."