Repair work will close Metro line on Tyneside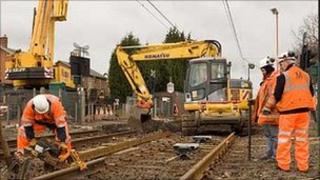 More than £22m is to be spent improving a stretch of the Tyne and Wear Metro between Byker and Tynemouth.
The work will bring disruption to services for at least 23 days during March and April while tracks and stations are modernised.
Metro owner Nexus said the scheme was the largest of its kind since services began in 1980.
Buses will replace Metro trains on the stretch of line, which carries about 14,000 passengers a day.
Director general of Nexus Bernard Garner said: "This modernisation work is vital if Metro is going to continue meeting the needs of the people of Tyne and Wear and its economy for years to come."
Ken Mackay, director of rail and infrastructure for Nexus, added: "The scale of the works leaves us with no choice but to close the line between Byker and Tynemouth for 23 days and over a number of weekends before that.
"Some stations will also need to close in the evening from 8pm.
"We know this will cause inconvenience, but the work cannot be done safely without closing lines."