Stone Roses' Spike Island gig backdrop to new film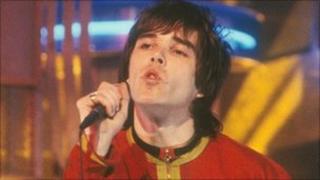 The outdoor Spike Island gig by Manchester band The Stone Roses is to be the backdrop for a new film.
Nearly 30,000 people went to the 1990 concert near Widnes, Cheshire, which was a high point in the band's career.
The film, being made by director of Channel 4's Misfits, Tom Green, will follow a group of young council estate hopefuls in an unsigned band.
Actor Chris Coghill - who played Happy Mondays dancer Bez in 24 Hour Party People - has written the script.
Filmmakers have said there will be cameo appearances in the yet-to-be-named movie.
'Baggy Wodstock'
The Spike Island concert - known as the "baggy Woodstock" - came as the Madchester scene was at its height.
The Stone Roses were flying high on the back of top 10 hit Fool's Gold and a highly regarded debut album.
They had played a major show at the Empress Ballroom in Blackpool a few months earlier, then went one better with their own mini-festival at Spike Island.
Tom Green said: "This is a raw and truly authentic rites-of-passage story.
"It's full of the humour, heartache, dreams and fears of being part of a brotherhood of mates, and set to the greatest record ever written.
"The Roses died in '95. This is the resurrection."
Co-producer Fiona Neilson, of Fiesta Productions, said: "The Stone Roses changed our teenage lives and Chris has captured that perfectly, creating a screenplay that will appeal both to fans and to a broad audience who will fall in love with the characters and their story."
Filming will begin later this year.