Unskilled school leavers 'hold up manufacturing growth'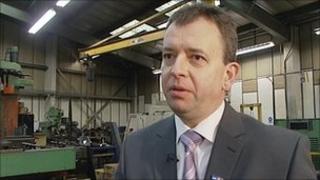 A lack of young, skilled workers is holding back manufacturing recovery in the West Midlands, it has been claimed.
Paul McCairn, of the Black Country Chamber of Commerce, said schools were not teaching pupils practical skills.
He said engineering firms like his were struggling to recruit, despite seeing a rise in foreign business opportunities.
Paul Uppal, Conservative MP for Wolverhampton south west, said the coalition government was investing in 75,000 new apprenticships.
'Right people'
Mr McCairn runs Bri-Mac Engineering in Dudley, which makes parts for trains and theme park rides.
He said he feared a grass roots problem with manufacturing recruitment.
"It has been very difficult," he said.
"When I was at school we had metal work, wood work, technical drawing, and it was at an age when you were enticed to come into engineering because it was a good discipline. It could give you a good living.
"Metal work isn't encouraged and children coming out of schools now are not pushed down the engineering, practical or manufacturing route.
"I'm fresh back from a trip to the Middle East this week where I've had no problem finding two businesses that want to deal with my business, and want to buy British products. My problem is finding the right people to work for me.""
Mr Uppal told the BBC: "We are creating 75,000 more apprenticeships. That's very much a flagship of ours and on top of that we've got a back to work programme as well, which incentivises long-term unemployed to actually find jobs and to get the skills they need to progress in life."