'Light graffiti' art project gets Southbank showcase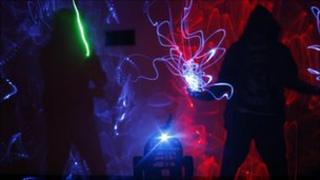 An exhibition that was created by young people from across the South East and uses light and cameras to make art is to be showcased on London's Southbank.
The project, led by artist Tine Bech and scientist Dr Kathryn Harkup, involved the use of LED lights to make drawings dubbed light graffiti.
More than 50 young people created the pieces at workshops in London, Hampshire, Kent and Surrey.
They will be shown at the BFI in February and then South East galleries.
Ms Bech said: "LightTAG has been a fantastic experience for everybody involved. The young people who participated have created a really visually engaging project.
"One of the project goals is to show youth culture in a positive light and increase the visibility of young peoples' voices, which I think we've achieved."