Pooh Corner shop to retain picture of Winnie the Pooh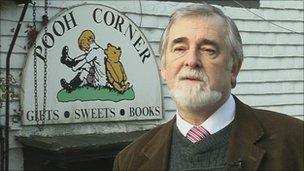 The owner of an East Sussex shop has been allowed to continue using a picture of Winnie the Pooh and Christopher Robin on the store's logo.
Mike Ridley, who owns Pooh Corner in Hartfield, recently lost a legal battle to trademark the name and feared he would have to remove the image.
Disney opposed his bid to register the name but agreed he could continue to use the picture.
The company has not commented on the decision.
AA Milne wrote the Pooh books in the 1920s while he lived in Ashdown Forest, near Hartfield in East Sussex.
Mr Ridley has run the Pooh Corner shop, heritage centre and tearoom in Hartfield since 1978.
Its logo features an image of Winnie the Pooh and Christopher Robin based on the illustrations by artist EH Shepard, who lived for 51 years in Shamley Green, near Guildford.
Mr Ridley said: "For me to have Walt Disney's acquiescence in me being able to continue to use it and pass it to whoever follows me [is] very satisfying."
Each year more than 35,000 people visit the Ashdown Forest's wooden Pooh Bridge, which was the venue for the "Poohsticks" game in Milne's stories.
Related Internet Links
The BBC is not responsible for the content of external sites.