Residents lose City Airport flights court battle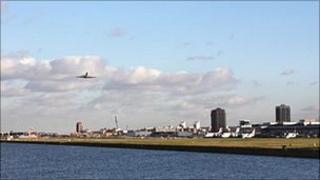 A group of residents from east London have lost their High Court battle to block an increase in the number of flights proposed for London City Airport.
In 2008 Newham Council gave the airport permission to increase its number of flights by 50%.
But local residents formed action group Fight the Flights to try to overturn the decision at the High Court.
Annual flights from the airport would increase from 80,000 to 120,000.
Residents argued extra flights would increase noise and pollution.
Accusations rejected
They accused Newham Council of "erring in law" by failing to take into account a "fundamental change" in government policy on aviation and climate change.
They also said the council had failed to consult the neighbouring London boroughs of Redbridge and Waltham Forest, or the residents of those boroughs.
But Lord Justice Pill and Mr Justice Roderick Evans, sitting in London, rejected both accusations and dismissed the legal challenge.
The airport released an economic impact assessment showing the claimed benefits of increasing the number of flights.
It pointed out the airport contributed more than £500m a year to the economy.
Anne-Marie Griffin, chairwoman of Fight the Flights, was given 14 days to apply for permission to appeal against the ruling.
Following the ruling, she said: "London City Airport already causes major disturbance and pollution for people living locally.
"The disappointment we feel at this outcome will be shared by thousands of residents across East London who are severely affected."
The residents were represented in court for the two-day hearing by campaign group Friends of the Earth.
Jenny Bates, a campaigner for the charity, said: "Airport expansion will have a terrible impact on local people's quality of life, as well as increase air pollution breaches and undermine efforts to tackle climate change."
London City Airport chief Richard Gooding said: "This is great news for London City Airport and Newham.
"The decision also enables us to continue supporting the much needed regeneration and investment which London City Airport has helped bring to East London over the past 23 years."