Drivers fail drink breath tests in Devon and Cornwall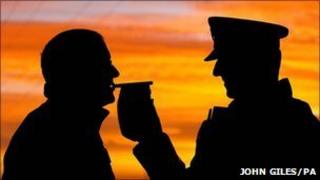 A total of 157 people failed breath tests or did not provide a breath specimen during a drink-drive campaign, Devon and Cornwall Police say.
Of 3,904 tests carried out between 1 December 2010 and 1 January, 157 people failed, refused to take one, or could not give a breath specimen.
The figure was down from 256 people out of 4,460 tests the year before.
The number of collisions reported during the campaign rose from 1,867 to 1,960.
Police said that the figures were still causing concerns.
Sgt Phillip Grigg, from the Devon and Cornwall Police Camborne traffic unit, said: "With the high-profile campaigns about at Christmas time, I don't think there are many motorists who are unaware of drink-drive initiatives.
"Yet we still have these people who are having collisions and providing positive breath tests, which are still a concern."