Migrant worker treated 'worse than an animal'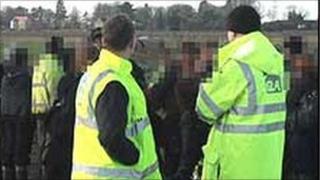 A migrant worker has told a court she was treated "worse than an animal" by the gang who recruited her.
Czeslawa Bindziej said she was humiliated by the way she was treated while picking leeks for the gang.
Five men and two women, some from the same family, deny conspiracy to exploit migrant workers in Cambridgeshire, Lincolshire and Nottinghamshire.
The leeks the workers picked were later sold to Tesco and Waitrose, Northampton Crown Court had heard previously.
Those charged are Gurdip Singh Somal, his wife Manjinder Kaur Somal, their nephew Jujhar Singh, Santokh Singh Nizzar, Varinder Singh, Fateh Singh Bal and Ania Jemiola.
The court heard the alleged offences happened between December 2004 and November 2008.
Gurdip and Manjinder Somal, Jujhar Singh and Jemiola deny conspiracy to exploit by arranging the arrival of the migrants in the UK.
All defendants except Jemiola deny conspiracy to exploit by arranging travel within the UK.
'Felt very humiliated'
At the start of the trial in December, prosecutor Jonathan Kirk QC said Gurdip Somal ran the multimillion-pound business, recruiting workers to harvest leeks in Lincolnshire, Nottinghamshire and Cambridgeshire.
On Wednesday, Mrs Bindziej, from Poland, broke down as she told the court she was treated worse than an animal by Gurdip Somal, whose nickname was "Dippa", and said she had also been hit on the arm by him.
Speaking through an interpreter, she said: "I felt very humiliated by the way he treated me.
"I came here to work and I felt I was treated worse than an animal."
She told the court she was paid less than was expected, with extra deductions made from her wages for accommodation and transport in a van to and from the fields.
Mrs Bindziej said workers often worked into the evening, with only the light from the combine harvester to guide them.
The case continues.