Unemployment figures in the West Midlands rise sharply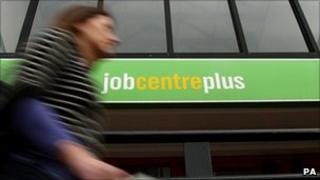 The West Midlands has seen the biggest rise in the number of unemployed people across the UK, according to new figures.
The total number of people unemployed in the region, between September and November 2010 was 264,000, an increase of 48,000.
Union Unison said it was evidence the West Midlands was suffering the most.
UK unemployment rose by 49,000 to almost 2.5 million, the Office for National Statistics (ONS) said.
Roger McKenzie, Unison regional secretary, said: "The West Midlands was the hardest-hit region during the recession.
"Today we have more evidence that it is our region that is still suffering the most.
"Our economy is extremely fragile and the planned job cuts in the public sector will just add to this already deeply distressing and disturbing picture."
Christine Braddock, president of Birmingham Chamber of Commerce, said in the last month, the number of unemployed people in the West Midlands had risen by 14,000 and predicted the situation would get worse.
"Public sector cuts, coupled with this month's VAT increase and more legislation and red tape, will have an even further negative effect on the business community," she added.