Manchester Metrolink tram services could run to Chester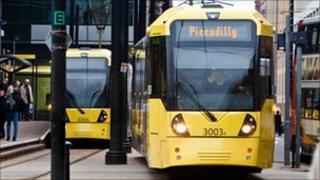 Manchester's Metrolink trams could run as far as Chester, Cheshire East Council has said.
Like other parts of the network, the trams would run on a railway line between Altrincham and Chester.
The Cheshire authority is running a feasibility study as part of its local transport plan.
Meanwhile Greater Manchester Integrated Transport Authority (GMITA) wants to meet transport ministers to discuss more tram train rail services.
John Oates, Chairman of the Mid Cheshire Rail Users Association, said the Cheshire link was badly needed.
"At the moment commuters from Knutsford to Manchester have one train an hour," he said.
Mr Oates said tram trains would improve the service for commuters, especially in places such as Knutsford and Northwich.
Councillor Ian Macdonald, who chairs GMITA, and vice chairman Councillor Keith Whitmore have written to ministers to request a meeting about running tram train rail services.
This would involve running specially modified trams on ordinary heavy railway lines as well as tram tracks.
The authority is studying a pilot scheme in Sheffield.
"This pilot will be essential in helping us to understand whether such a system might one day be implemented in Greater Manchester, and we will be urging the DfT to ensure rapid progress on the project," said Mr Macdonald.