Man rescued from mudslide at Benenden School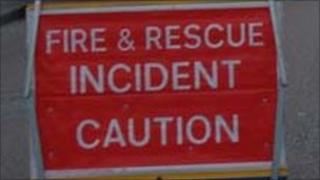 A man has been airlifted to hospital after being trapped in a mudslide at Benenden Girls' School in Kent.
Firefighters from Kent Fire and Rescue Service's urban search and rescue team freed the man, who was trapped in mud from the knees down.
A fire service spokesman said paramedics assessed his injuries before he was flown to hospital by air ambulance.
It is believed he was trapped after a mudbank slid during excavation work.
The extent of his injuries is not yet known. The incident is being referred to the Health and Safety Executive.
Emergency services were called to the boarding school, in Cranbrook, which was attended by the Princess Royal, at 0912 GMT on Tuesday.
The fire service said the incident was not believed to be weather-related.