Olympic boss tours training bases in Kent and Surrey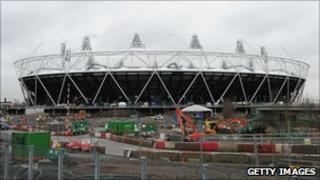 The boss of the British Olympic Association (BOA) has visited facilities in Kent and Surrey which will be used as 2012 training bases.
Tonbridge School will host the Australian Athletics team, while Antigua and Barbuda will use Surrey Sports Park in Guildford.
BOA Chief Executive Andy Hunt was also briefed on the economic impact of the London games on the South East.
Surrey businesses have won contracts worth £735m to supply the London games.
They represent about 90% of the contracts awarded in the South East.
At Tonbridge on Tuesday, Mr Hunt was taken on a tour of the school's sports facilities which will be used by the Australian team.
The school also hopes to host hockey pre-games training camps.
In Surrey, he met business leaders whose companies will benefit from the games.
He also saw demonstrations of two projects for Surrey schools sparked by the 2012 games.
The international flag exchange project saw 54 schools design and make flags with others from countries such as India and Uganda.
The Surrey games project involves schools across the county in a variety of sports and activities.