Three Kent men re-bailed in Sussex farm murder inquiry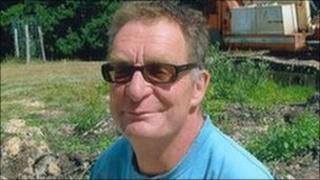 Three Kent men who were arrested on suspicion of the murder of a businessman at his farm in East Sussex have been re-bailed.
Julian Gardner, 53, died from multiple injuries in October after apparently disturbing intruders in outbuildings at Bush Barn Farm, near Robertsbridge.
Three men aged, 22, 31 and 40, all from Kent, were re-bailed until March.
Police have arrested and bailed six other men from Kent, a man from north Wales and a woman from Kent.
Mr Gardner suffered compression-type injuries, possibly caused when he was crushed between two vehicles, post-mortem tests revealed.
Police believe he disturbed an unknown number of people in the early hours of 11 October in a burglary that went wrong.