Connaught administrators find 50,000 unpaid invoices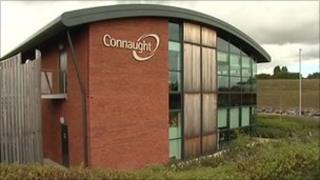 Accountants called in to wind up the social housing arm of property services giant Connaught have spoken of their shock at the state of its books.
Connaught went into administration in September after failing to secure funding to pay off £220m of debts.
Administrators KPMG have now revealed they found 50,000 unprocessed invoices at the Leeds offices of the Connaught Partnerships social housing unit.
It also took them weeks to unravel the company's chaotic payroll records.
The team of administrators from KPMG were initially called in to assess whether the business, which provided property management for the public sector and affordable housing projects, could be rescued.
Administrator David Costley-Wood told the BBC's Inside Out programme: "I was first involved with Connaught when we had a call from our London office saying the business was likely to go into administration in a matter of days and could we try and get a team together to try and rescue the business and to try and find a buyer for it and prevent it shutting down completely.
"We had to effectively sell a business with 4,500 employees, 140 contracts and millions of pounds of turnover from scratch within 48 hours.
"I think we were surprised at the state of the accounting, from when we found boxes of invoices at the Leeds office.
"Obviously, it's a large business and there will always be a slight lag in accounting, but we found about 50,000 invoices which hadn't been processed.
"It took about three weeks to actually reconcile the payroll records, to actually find out who they actually employed, which is unusual really for a listed company."
Connaught Partnerships' managing director Peter Jones is currently under investigation by the Financial Services Authority (FSA) regarding allegations about his share dealings in the company.
Mr Jones's lawyers told the BBC's Inside Out programme that he sold some shares a month before the Connaught profit warning but did not know about the profits warning at the time.
Mr Costley-Wood said the administrators were compiling a report for government ministers on the conduct of directors before and since the company's collapse.
Andrew Binsley, a manager at the company's door and window production site in Leeds, was among the 2,000 staff who lost their jobs after the company collapsed.
"Connaught as a company was run very badly," he said.
"It seemed to be the people at the top got their wages; the little guys on the ground that were doing all the work for them, they... didn't get paid.
"Whether it was a one-man band or a multinational company they didn't seem to want to pay anybody.
"We had several suppliers who wouldn't release any goods to us.
"I've made several purchases on my own credit cards, probably about £3,000 or £4,000, to actually get the goods in just to keep a week's production going."
One of Connaught's main competitors, Morrison plc, said Connaught had undercut its bid to provide services at Norwich City Council by 25%.
Morrison chief executive Guy Wakeley said: "We thought the price they had bid was too little to pay the workforce.
"Connaught was too focused on the City and not sufficiently focused on what happens on the ground.
"Connaught was an irresponsible contractor. I think Connaught's management has really got something to answer for to its workforce."
Inside Out is on BBC1 at 1930 GMT on Monday 17 January.