Thames Water winter calls in December double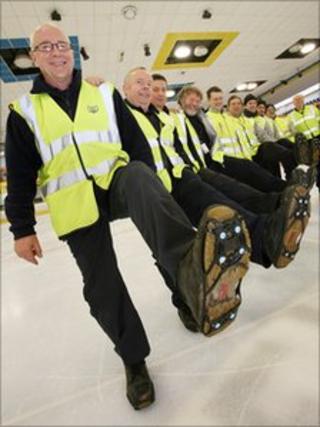 The coldest December in 100 years saw call-outs to Thames Water almost double from the year before.
The firm received about 103,000 calls during the month - compared to about 58,000 in 2009.
About 80,000 inquiries were about burst mains on the company's network or frozen pipes in customers' homes.
In November, Thames Water engineers were given new anti-slip shoes to help them stay on their feet while carrying out repairs during the winter.
The firm, which supplies homes in Oxfordshire, Berkshire, Buckinghamshire, Surrey, Kent, Wiltshire, Gloucestershire and London, said the conditions led to a near four-fold increase in bursts and leaks on its network compared to normal.
300 new leaks
Steve Shine, chief operating officer, said: "The number of December calls to our customer service team directly reflects the operational challenge we face in sustained cold weather.
"Water in our reservoirs and pipes cooled down to below 1.5C (35F) at the end of December, the coldest we have ever recorded at that time of year, way under the average of 7C (45F).
"When water drops below 5C (41C) our pipes, especially the century-old cast-iron ones, contract and break more.
"Right now we are still getting nearly 300 new leaks reported a day, up from the 75 a day we'd normally expect at this time of year."