Man arrested at Cameron protest in Newcastle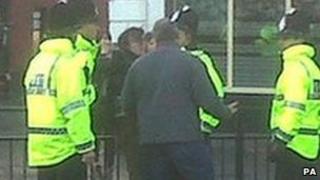 A protester was arrested during a visit by Prime Minister David Cameron to Newcastle.
Northumbria Police said between 30 and 40 student protesters gathered during the prime minister's visit to the city's Centre for Life.
A 19-year-old man was arrested on suspicion of causing criminal damage after a police vehicle suffered minor damage.
Later, there was a small demonstration at the city's Etal Lane police station.
Organisation Newcastle Occupation said the protest was in response to the government's cuts to higher and further education and other public services.
Mr Cameron visited several locations in the city.