Loan shark victim mother's bus tour to help others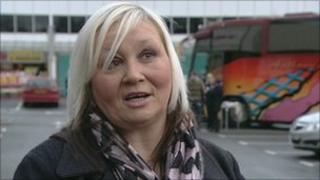 A mother whose son killed himself after getting into debt with a loan shark is trying to stop other young people borrowing money from such lenders.
Brian Shields, 22, of Runcorn in Cheshire, took his life after a loan of £300 increased to £3,000 in 12 weeks.
He had borrowed money from Paul Nicholson, 40, of Delamere. He was jailed for several offences in 2009.
Carol Highton has hired a coach to tour the Runcorn area with experts to give people advice on debt and money.
Knuckle dusters
She said she knew a woman had borrowed £500 before Christmas and was told she would only have to repay a few pounds a week.
"She has now been told it is £80 a week.
"What can she do? She on 100-odd pounds a week on benefits. That's awful."
Nicholson - described by Trading Standards as one of most "despicable illegal lenders" the North West team had prosecuted - would charge his clients up to 125% interest.
If they did not pay up he would go to their homes and threaten them with knuckle dusters and baseball bats. He gave many of his female victims the option to pay "in kind" and perform sexual acts for him.
Ms Highton said she blamed Nicholson's intimidation for her son's death.
Nicholson, a former night club doorman, was convicted of a several offences including rape, assault, blackmail and operating without a licence.
He was given an indeterminate jail term and ordered to serve to a minimum of six years and 175 days before any possible release.