Consultation launched on future of fire services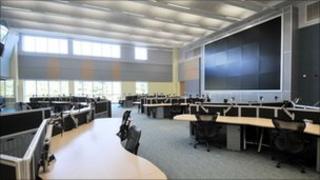 The government is urging the 46 fire authorities in England to work more closely together.
Fire Minister Bob Neill launched a three-month consultation after controversially scrapping plans to replace them with regional centres.
Four options are on the table but the government on Thursday urged all 46 authorities to opt for "greater collaboration".
Nine control centres have already been built at a cost of £230m.
Several of the regional centres had stood empty for years, costing taxpayers thousands of pounds a day, when Mr Neill scrapped the project last month.
Launching the consultation on the best way forward for the service, Mr Neill said: "This government believes that the fire and rescue community is best placed to decide the future of their control services.
"No solution will be imposed. The consultation reviews the legacy assets from the project, as well as lessons learnt, and encourages the sector to make best use of these in their future plans, for the benefit of both the taxpayer and local communities."
'Long overdue'
The Communities and Local Government department set out four scenarios for the future of the service.
These range from minimal involvement on the part of central government to a nationwide system for control rooms led by a single organisation.
The department favours offering financial support from central government to encourage collaboration between the 46 authorities.
In a foreword to Thursday's consultation document, Mr Neil wrote: "Fire and rescue authorities will be free to determine their own priorities.
"They can work together on a collaborative basis in a way that works best for them, and their officers can exercise their professional judgement in determining the best and most efficient way to deliver local services. The consultation is intended to support this process."
The Firecontrol project has suffered a series of delays and increased costs since it was announced by the Labour government several years ago.
In an announcement last month, Mr Neill said agreement had been reached with main contractor Cassidian to end the project - a decision welcomed by the Fire Brigades Union (FBU) as "long overdue".
The centres are standing empty because of problems with their computers. The FBU, which has campaigned against the project since it was announced, has said the rent alone on the empty centres had cost the taxpayer £6.5m.