New barrier system plan for Wear-Tyne derby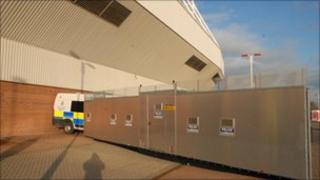 Northumbria Police will use a new barrier system at this weekend's Wear-Tyne derby at the Stadium of Light.
The force said the purpose of the new cordon was to minimise any potential conflict between opposing fans.
It is the first time the cordon barriers will have been used in a live operation by the force.
After the last derby in October, 37 people were arrested, including seven for failing to comply with football banning orders.
The metal barriers can be joined together to form an extended blockade and can be hinged to fit around obstacles such as lamp posts.
They will be positioned at various points along the route up to and around the Stadium of Light for the Sunderland v Newcastle fixture on 16 January.
Chief Superintendent Rachel Kearton, Sunderland Area Command, said: "The primary objective of police cordons is to ensure the safety of fans.
"Previously, we have used police vehicles and officers to form cordons, so the obvious benefit of these barriers is that they free up resources."