Water 'volcano' shuts Ipswich shopping area for day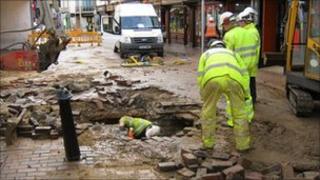 A water main burst - described as a "volcano" by a police witness - has shut a busy shopping street in Suffolk.
Water from the main surged through the pavement in Ipswich throwing bricks into the air and flooding a shop, a police spokesman said.
The incident happened in the pedestrian area near Tavern Street and Tower Street at 0400 GMT on Thursday.
Suffolk police said the area will be closed off for much of the day as the water lifted paving making it unsafe.
An Anglian Water spokesman apologised and said it was a 9in main that burst. He added: "When this happens significant damage can be done."
Engineers are on site and will work through the day to repair the pipe and restore the damaged pavement.
Officials are contacting the owners of about a dozen nearby properties thought to be business premises.
"We know that one shop has flooded but we will speak to all the traders to see if they have been affected," the spokesman said.
"Anglian Water has about 4,000 km of water main around the region and some has been affected by the recent cold weather.
"Because this is a pedestrian area there will be no disruption to traffic and we hope to get everything done in one day including repairs to the pavement."