Falmouth Coastguard coordinates Sri Lanka yacht rescue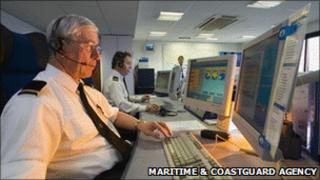 Three people, including a couple from Kent, have been rescued from a sinking yacht off Sri Lanka after contacting coastguards in Cornwall.
Falmouth Coastguard received a call asking for medical advice on Tuesday evening when the skipper of the 14m (46ft) "Baccus" injured his arm.
Less than an hour later, in "horrendous" storms, the yacht started to sink.
The Broadstairs couple and a Belgian man were rescued by a nearby ship.
The Maritime and Coastguard Agency (MCA) said what had first appeared to be a routine request soon became a major rescue.
Falmouth Coastguard arranged for medical advice by connecting the call from the Baccus crew to a duty doctor at the Queen Alexandra Hospital in Portsmouth.
Mayday call
The crew contacted Falmouth Coastguard again less than an hour later by satellite telephone to say that, in force 11 winds, with high seas and heavy swells, they had lost steerage of the yacht which was taking on water.
With an injured skipper and the pumps on board not working, the crew issued a mayday, following advice from Falmouth.
Working with with Maritime Rescue Coordination Centre (MRCC) Colombo and MRCC Mumbai in India, Falmouth broadcast a satellite appeal to vessels in the area of the disabled yacht.
Falmouth Coastguard then asked the Baccus to activate its emergency position indicating radio beacon (EPIRB) and the crew was rescued after position reports were relayed to four rescue ships.
The sinking yacht was abandoned and the crew taken aboard the merchant vessel Maersk Surabaya, which is en route to Malaysia.
Watch manager Marc Thomas said satellite broadcasts and EPIRB alerts meant Falmouth was able to get assistance to the yacht quickly.
"Utilising the good relationships we have with both Sri Lankan and Indian coastguard it was possible to rescue all three of the crew of the Baccus."