Fuel cost fears for Devon and Cornwall rescue teams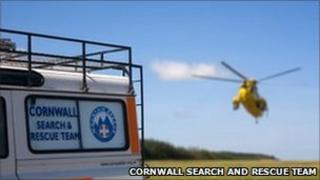 Volunteer search and rescue teams in Devon and Cornwall are struggling to cope with rising fuel prices.
The inland search and rescue charities are involved in about 150 incidents each year.
Andy Brelsford, regional chairman, said volunteers on average travelled 300 miles per month for essential training and fundraising.
"Volunteers could be forced to give up because of escalating fuel costs," he said.
The cost of keeping their ambulances and specialist vehicles on the road has also increased.
"People often assume that our teams receive central funding, but that is not the case - they are all registered charities," he said.
In the South West, nearly 300 people volunteer for the search and rescue teams, which are part of the Peninsula Mountain and Cave Rescue Association.
It includes search and rescue teams in Cornwall, Dartmoor and Exmoor, the Devon Cave Rescue Organisation and the Search and Rescue Dog Association.