Oxford student Isabelle Fraser's weekend with Wikileaks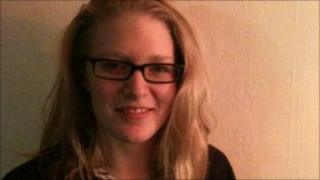 When Oxford student Isabelle Fraser decided to write an article on Wikileaks she got unprecedented access to an unfolding international story.
As almost 400,000 secret US documents went online in October 2010 she was an intern in the Wikileaks office doing research for her university paper.
She witnessed first-hand the world's media as it reacted to the release.
"It was amazing to watch it happen but very surreal. It's rare to experience something like that," she said.
'Quite disarming'
Ms Fraser, 20, from London, is reading history at St Edmund Hall, Oxford. She managed to get access to Julian Assange's small London office through a friend who was making a film about Wikileaks.
For three days she helped out by fetching sandwiches and making calls, working not as a supporter or an activist but as an observer.
This work brought her into direct contact with Mr Assange, a man she described in her Isis Magazine article as being "quite sexy, and very confident", adjectives she now regrets.
"That possibly was a mistake because I found myself on really awful websites. One linked to my piece saying, 'Intern has crush on Julian Assange'.
"I think people either misconstrued it or didn't want to read it how I meant it but he's incredibly confident and I think that's what came across most.
"He sort of knows how to get your attention and hold it, so in that way it's quite disarming."
Aside from the controversy surrounding the public face of the organisation her real concern was about the justification of the work Wikileaks was doing, especially the previous Afghanistan war logs.
"None of them were redacted at all or very, very slightly and so it put a lot of people in danger," she said.
Mr Assange has denied this is the case and has responded to similar comments made by the Pentagon by saying: "Journalists must be very careful about reporting the statements of an organisation [the Pentagon] that has been shown time and time again to not be credible."
'Opaque'
Although she felt they properly handled the Iraqi war logs she still had concerns about the transparency of Wikileaks.
"I really don't think the organisation should be as opaque as it is," she said.
And in a wider context she was still to be convinced that what they were doing was morally justified.
"I think freedom of information is very important but there is a difference between a freedom of information request and publishing classified military documents.
"I'm intrigued by their way of thinking but I don't wholly agree with it," she said.
You can read Ms Fraser's full article on the Isis Magazine's website.