Cuts-hit Darlington Civic Theatre given reprieve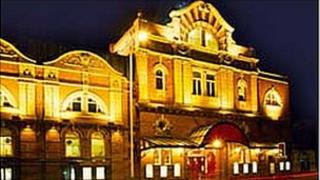 A closure-threatened theatre has been given a 12-month reprieve by council bosses faced with finding savings of about £20m.
In November, Darlington Council said 475 jobs would have to go and the 104-year-old Civic Theatre would close because of government spending cuts.
But the Labour-controlled council now estimates 360 job losses.
It has also pledged to keep the historic theatre open until at least January 2012 if a buyer is not found.
Council leader John Williams said: "In November we were only able to guess at the level of reductions the government required.
"Following the government's announcements in December, we now have the final confirmation of the significant reduction in public spending we face.
"Our estimates were right in that we have to reduce our annual spending bill by £20m by 2015 on top of savings we have already made.
Going concern
"This is the most significant reduction in funding we have ever faced.
"In November, consultation on 475 potential job losses started. It is proposed that this number will reduce to approximately 360 potential redundancies.
"The potential costs associated with redundancies are approximately £6m."
The council stressed efforts would still be made to sell the theatre as a going concern with the aim of removing a £1m a year subsidy.
Other proposed cost-cutting measures include reducing local bus subsidies, reviewing library services and imposing a two-year pay freeze for council staff.