Cornish MP in 'preserved status' call for 'Devonwall'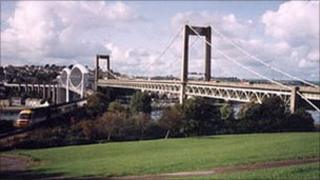 A Cornish MP fighting the creation of a so-called "Devonwall" constituency has questioned why Devon and Cornwall cannot be given "preserved status".
Changes being considered could see parts of the counties - on opposite sides of the River Tamar - made into one constituency.
"Preserved status" is being considered by the government for Orkney, Shetland and the Western Isles.
St Ives Lib Dem MP Andrew George wants similar protection for Cornwall.
There was an angry reaction from voters on both sides of the Tamar when a "cross-county" constituency was first proposed.
In October last year, about 500 people attended a rally to protest against the plans, which included a march from Marsland Point in Devon to Saltash in Cornwall.
'Inflexible policy'
Following a debate in Westminster, Mr George said it was unclear why islands in Scotland could have preserved status, but not Devon and Cornwall.
"The minister [Mark Harper] was unable to explain what principle underlay the justification for the 'preserved status' of two Scottish constituencies which could not be equally applied to other areas of the UK like Cornwall," he said.
"I contrasted my own experience of getting around my constituency with a large rural population on the mainland and with six inhabited islands, including the Isles of Scilly, 30 miles from the mainland.
"If exceptional 'preserved status' can be applied to the two constituencies which the government favours, then there is no reason why the government cannot equally apply the same principle to other areas and let the politically independent Boundary Commission make the final decision."
Mr George said he endorsed the policy of reducing the number of MPs and a greater level of equalisation, but "not within the straight jacket of inflexible government policy".
The proposed changes are part of the government's Parliamentary Voting System and Constituencies Bill.
It has now gone to the House of Lords, but if a referendum is to be held on 5 May, the Bill must go through parliament quickly.
The Boundary Commission has until 2013 to make its final recommendations on constituency changes.