Appeal to trace descendants of Jack the Ripper suspect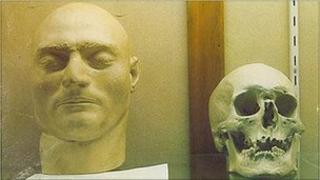 Scientists want to trace descendants of a Leicestershire-born murderer, whose brutal killings fuelled speculation that he was Jack the Ripper.
Frederick Deeming, from Ashby-de-la-Zouch, was hanged in Australia in 1892 after murdering two wives and four of his children.
A skull once displayed at Old Melbourne Gaol is thought to be Deeming's or that of notorious outlaw Ned Kelly.
Researchers hope DNA samples will prove if the skull belongs to either man.
Deeming, born in 1853, was a career thief and swindler, who travelled between England, Australia and South Africa.
While living in Rainhill near Liverpool in 1891, he killed his wife Marie and their four young children - mainly by cutting their throats - and buried them under the floor of a rented house.
Later, in Melbourne, he murdered Emily Mather - who he had married bigamously - and hid her body beneath a fireplace.
He was caught soon afterwards and the killings made worldwide headlines when it emerged Deeming may have been in London in 1888, at the time of the Whitechapel Murders.
He was hanged at Melbourne prison.
When the jail was redeveloped in 1929, a skull thought to be Ned Kelly's was found and put on display.
It was stolen in the 1970s but returned in 2009, at which point experts determined it could also have belonged to Deeming - who was buried at the prison alongside Kelly and was of a similar build.
The Victorian Institute of Forensic Medicine now hopes to settle the matter using DNA samples from his family's descendants, possibly living in Leicestershire or Merseyside.
Spokesman Deb Withers said: "Frederick had 10 siblings so we think there must be someone out there.
"And as it is only going back a few generations it's not such a long shot. It's just difficult finding the right person or someone who can lead us to the right person.
"Such was the press attention, some of Deeming's relatives changed their names to Bailey which was his mother's maiden name, making them harder to track down."
She added: "We need a female descended from one of his sisters or a male descendent from one of his brothers so it must be, for example, the daughter of a daughter of a daughter of his sister, or the son of a son of a son of his brother."
Anyone who believes they may be related to Deeming is asked to contact the institute.