Stray pony and horse cases soar, says Norfolk charity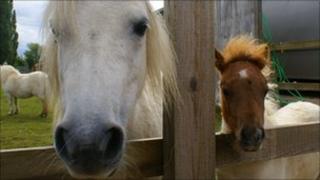 Cases of abandoned horses and ponies have soared because animals are sold so cheaply and are dumped at livery yards, a charity has said.
The Norfolk-based Redwings sanctuary said it dealt with 67 cases from across the UK in December, compared with 16 in December 2009.
It said ponies were available for sale at less than £5 in some parts of the country.
Animals were also being left in rented fields and at liveries, it added.
More than 250 horses taken in by Redwings during 2010 came from a variety of backgrounds including abandonment, neglect, and mistreatment, the charity said.
It said it was aware of cases where large quantities of horses and ponies were being abandoned, such as 28 in Wales at the beginning of December.
"This is likely to be because of the low value of horses at the moment," said senior welfare officer Rachel Agnell.
"It is possible to buy a pony for less than £5. We have heard of some people buying 'job lots' and then abandoning the ones they don't want, particularly the colts who cost the most to deal with as they need to be gelded and can be more difficult to handle."