Air Southwest withdrawing flights to London Gatwick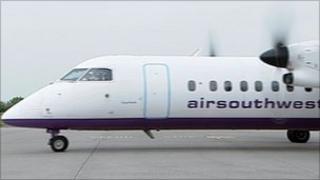 An airline has withdrawn its flights to London from Devon and Cornwall.
Air Southwest's service between Plymouth, Newquay and London Gatwick will not operate from 1 February because the route is losing money.
Devon and Cornwall Business Council described the decision as "inevitable", but a "major blow" to the economy.
Air Southwest was taken over by Humberside-based Eastern Airways in September.
Last May, flights to London City Airport were cancelled after passenger numbers dropped.
Air Southwest said it had been looking at ways of cutting costs to ensure the airline's survival.
It means that from February, Flybe will be the only airline to operate a service from Cornwall to London. There will not be any from Devon.
Tim Jones, from Devon and Cornwall Business Council, said it was a major blow to the region.
"There's no way of trying to dress it up - it's bad news for Plymouth and the South West's economy," he told BBC News.
Mr Jones said with the exceptionally high cost of slots at Gatwick, many business leaders feared the cut was inevitable.
"We've seen it coming and been holding our breath, but to lose the flagship route just at a time when manufacturing resilience here is at an all time high is a major body blow," he said.
"Eastern Airways is taking the longer-term view and clearly regional flying is its focus.
"So it's bad news now, but good news for later if it means the survival of Plymouth Airport."
Flights and refunds
Customers who have already booked flights from Newquay to Gatwick after 1 February will be offered an alternative flight with Flybe, at no extra charge, while passengers booked from Plymouth will be offered a refund.
Stephen Gilbert, the Liberal Democrat MP for St Austell and Newquay, said the announcement was a blow to the economy and the tourist industry.
"I hope all the people involved will work together over the coming weeks and months to ensure that this vital link is not lost for good and that other airlines will be able to step in and fill any gaps left by Air Southwest's departure," Mr Gilbert said.
The rest of Air Southwest's schedule to other destinations have not been affected.
In a statement, the airline confirmed it was having "exploratory discussions with Flybe on potential areas for future positive cooperation".