MP calls for action on Dartford Crossing traffic jams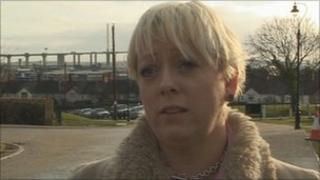 A Conservative MP has said not enough is being done to tackle congestion at the Dartford Crossing between Kent and Essex.
Jackie Doyle-Price, who represents Thurrock, said the road network in her constituency was often gridlocked.
The toll is due to rise this year for cars from £1.50 to £2, then in 2012 from £2 to £2.50.
Ms Doyle-Price said: "The consultation was due for free-flowing technology before the end of 2010."
She added: "It's still not here, so there has been lots of talk but where are the real proposals.
Holding back investment
"In the meantime, every Friday from four o'clock in Thurrock the roads are gridlocked"
The Department of Transport (DfT) hopes to remove the toll booths by 2012 to ease traffic.
According to the DfT, the crossing tolls bring in about £40m in profit each year.
In November, Gareth Johnson, the Conservative MP for Dartford, said the traffic jams were holding back investment in the region.
Last month, it emerged money from the planned toll increases would not be ring-fenced to fund improvements at the site, despite previous assurances.
The Dartford Tunnel and Queen Elizabeth II bridge cross the River Thames between Dartford and Thurrock.
They form a link in the M25 motorway, carrying about 150,000 vehicles a day.