Festive drink-driving increases in Thames Valley area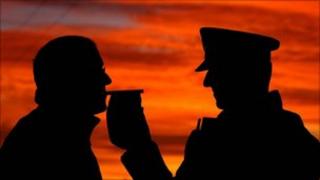 Drink-driving in the Thames Valley region rose over the Christmas period despite the snowy weather conditions.
Between 1 December and 1 January, 261 motorists were arrested, compared with 257 the year before.
However, on 17 December Thames Valley Police issued figures saying there had been a 21% increase since 1 December, compared with the year before.
A spokesman said snowy weather cut traffic on roads on the weekend of 18 December and the week before Christmas.
Of those arrested, 87% were men and 13% were women, the force said.
The highest recorded reading was 157mg of alcohol in 100ml of breath - almost four times the legal limit.
The 50-year-old man, from Milton Keynes, was jailed for 16 weeks and disqualified from driving for three years.
Insp Colin Clark, of Thames Valley Police which covers Berkshire, Oxfordshire and Buckinghamshire, said: "Although the weather significantly reduced the amount of traffic on our region's roads we continued to target those who are prepared to drink and drive.
"It is disappointing to see a rise in the number of people who are still not prepared to accept the dangers posed by drink driving.
"This year we also focused on those who drive the morning after a night out and the figures also show that many of those who were caught had not allowed themselves enough time to recover after a heavy night."