Trees plan for London to Birmingham high-speed rail line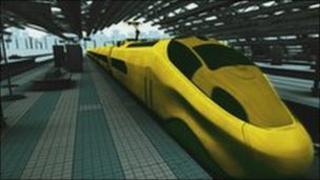 The government is to plant at least two million trees along the planned route of the new high-speed rail link between London and Birmingham.
The trees are being planted in a bid to reduce the local impact on the landscape of the multimillion-pound scheme, known as HS2.
The project has been opposed by residents' groups, councils and a number of MPs.
The Woodland Trust said it hoped this was not a token gesture.
Transport Secretary Philip Hammond said the trees would help to reduce the impacts of the rail line, offset some of the carbon emissions of construction and create new habitats for local wildlife along the route.
"High-speed rail is vital to our future and will transform the way Britain works and competes in the 21st Century," he said.
'Natural look'
"But while it will boost growth nationally, I know that many people living along the line of the route are worried about the perceived impact on their local landscape.
"That is why I am determined that we will do everything possible to try and reduce the impact of the line, including extensive woodland planting to screen the railway"
The Department for Transport said the trees and shrubs would be planted to create a natural look, avoiding an artificial row of trees across the landscape and will be managed to sustain habitats and boost wildlife.
Last month, Mr Hammond announced that about half the planned route had been altered, amid serious concerns about its impact on local communities and the countryside.
A spokeswoman for the Woodland Trust said: "Whilst the planting of two million trees is a great contribution towards increasing the UK's minimal native woodland cover, it is important that this isn't seen as a token gesture in what could potentially see the loss and fragmentation of existing woodland habitats, which are of far higher conservation value and in some cases irreplaceable.
"Furthermore, it is essential that the trees planted are not only native, but are also planted and managed sensitively as a high percentage of trees planted by roadsides simply die off."