Nephew traced in WWI postcard mystery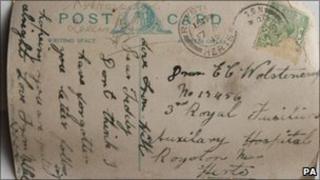 The nephew of a World War I soldier who lost a postcard while being treated in a military hospital nearly 100 years ago has been traced.
Workers repairing the village hall in Shepreth, Cambridgeshire, found the card inside a wooden panel.
The card was sent to Private Edward Wolstencroft of the Royal Fusiliers by a woman called Nellie in April 1915.
Villagers will now meet his nephew, Paul Wolstencroft, from Hertfordshire, to decide what to do with the card.
Records show the hall was used as a military hospital between 1915 and 1919 and villagers believe the card was placed on a shelf then slipped behind the panel.
The soldier, who was a drummer with the 9th Battalion the Royal Fusiliers, originally came from Edmonton, north London.
He was one of 12 children born to Edward Coulton Wolstencroft and Annie Wolstencroft, of Gordon Road, Lower Edmonton.
War memorial
It is believed that Pte Wolstencroft was treated at the hospital in Shepreth in 1915, before returning to active duty in France.
He died on 7 July 1916 during the Battle of the Somme when he was in his mid 20s.
He is remembered on the war memorial dedicated to missing World War I soldiers at Thiepval in the Picardie region of France.
Amateur family researcher Chris East worked to trace 61-year-old Paul Wolstencroft whose father, Thomas, was Pte Wolstencroft's brother.
Mr Wolstencroft said: "I knew nothing about this until Chris contacted me - it's very interesting.
"All I know about Edward was what my father told me. He died in the war. I know he was an amateur artist and he played the violin."
Mr Wolstencroft said "Nellie" was probably Pte Wolstencroft's sister Ellen, who was known as Nellie.
Mr East, a retired RAF Squadron Leader and chairman of the East Family History Society who lives in Hertfordshire, said he used a variety of internet tools, including websites and the 1901 and 1911 censuses, to create a Wolstencroft family tree and trace relatives.