Figures show five-fold increase in South West flu cases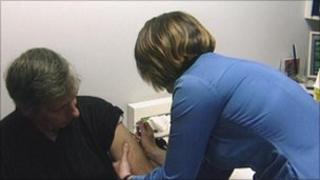 The number of flu cases diagnosed in the South West has risen five-fold in the past three weeks.
Health Protection Agency (HPA) figures show there were 90.6 cases of flu for every 100,000 people for the week ending 2 January.
This rate of flu for the South West is higher than the national average.
Dr Mark Kealey, from the HPA in Devon, said once in the community, flu would "rise rapidly until it runs out of people who can catch it".
He said there were two possible explanations for a higher rate in the South West.
One was better recording of flu consultations and the other was because the current outbreak of flu appeared to have started in this region.
Prof John Oxford, a virology expert, told BBC News the figures for the South West were now nearing epidemic levels.
Unlike a cold, flu can be extremely debilitating - even for normally healthy people.
'Supply issues'
Unlike a cold, flu is extremely debilitating, even for normally healthy people, with the symptoms including fever, headache, cough, sore throat and muscle aches.
Dr David Jenner, a Cullompton GP, said most of the current cases were "almost certainly swine flu", because more children were affected.
Anyone classed as "at-risk" who has not yet been vaccinated against flu is being encouraged to do so.
This includes the elderly, pregnant women, carers, children and people with long-term illnesses.
There has been a good uptake of flu jabs across Devon and Cornwall, but some surgeries are reported to be running low on vaccine supplies.
The government said there was "no national shortage", but accepted some areas were experiencing "local supply issues".
Several strains of flu are circulating at the moment and swine flu has accounted for a rise in hospital admissions.
Most people recover after about a week, but may continue to feel exhausted for several weeks, health experts say.
Nationally, 39 people had died by the end of last week, with more than 700 in critical care.